Deer Season XP Copper Impact
Deer Season XP Copper Impact
$$
Bigger Tip. Bigger Impact.
Winchester's First Ammunition Ever Developed Specifically for Deer Hunting
Deer Season XP Copper Impact ammunition combines our extensive experience into a product engineered specifically for deer hunters. The Copper Extreme Point bullet is a solid copper expanding projectile with an oversized impact diameter. A bigger impact diameter means more impact trauma, better energy transfer, and larger diameter wound cavities for faster knockdown.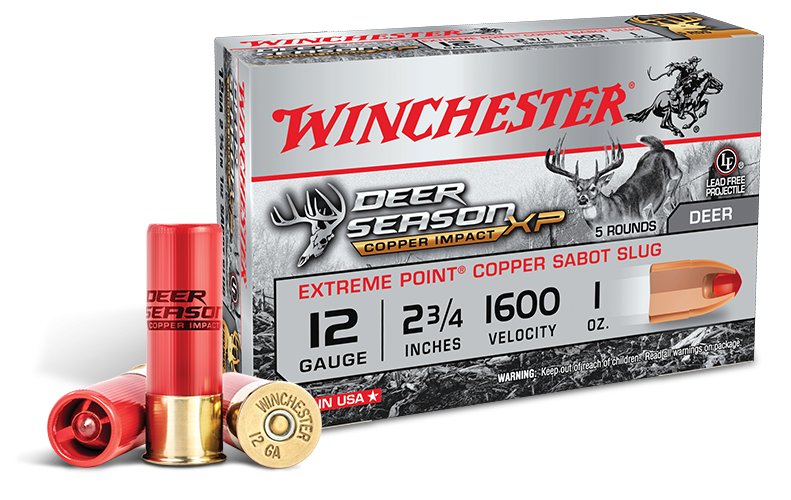 Solid Copper Construction
Expands consistently and maximizes retained weight
Large Diameter & Thin Wall Sabot
58 Caliber projectile and engineered thin-wall sabot improve accuracy and terminal performance
Ammunition
0 Items
Cartridge
Bullet
Weight
Bullet
Type
Rounds
Per Box
Symbol
Ballistic
Coeff
Muzzle
Velocity
Muzzle
Energy
Usage
View more
12 Gauge
1 Ounces
Copper Extreme Point
5
0.190
1600
2489
View more
20 Gauge
3/4 Ounces
Copper Extreme Point
5
0.195
1600
1847
0
Compare Products
Products Compared
Overview
Cartridge
Bullet
Weight
Bullet
Type
Rounds
Per Box
Symbol
Brand
Ballistic Coeff
Usage
Velocity
Energy
Trajectory Short Range
Trajectory Long Range